Why Wayne State University School of Medicine?
Discover the power of academic and research excellence in the heart of Detroit at Wayne State University School of Medicine. Our esteemed institution is a hub of innovation and discovery, where renowned faculty and cutting-edge research initiatives fuel transformative breakthroughs in healthcare. Immerse yourself in a vibrant urban environment that embraces diversity and offers a multitude of opportunities to engage with the dynamic communities of Detroit. Join a supportive community of like-minded individuals who share your passion for serving the underserved and making a meaningful impact. At Wayne State University School of Medicine, we believe in nurturing the next generation of compassionate physicians who will shape the future of medicine.
---
Insights
Fully accredited medical degree with 99% first-attempt pass rate on the United States Medical Licensing Examination Step 1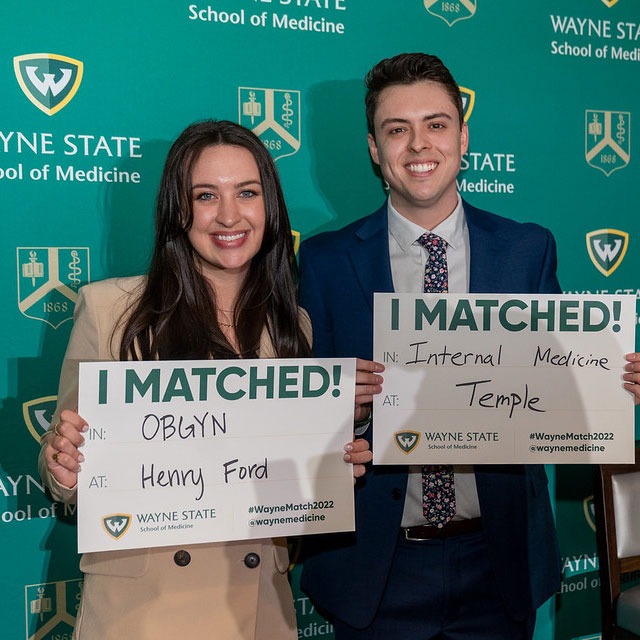 Invaluable exposure to clinical skills that get results with our Total Success Match Rate at 99.1% well above the national average
Volunteers work at more than 35 free clinics throughout the city
---
Community engagement
Take part in community outreach programs that serve vulnerable communities throughout metro Detroit. Our students work with leading clinicians and biomedical scientists who take you out of the classroom right to the communities where your work will make a difference.
Volunteers work at more than 35 free clinics throughout the city
Provide patient care for the homeless
Mentor school children
Participate in renovation and farming efforts in local neighborhoods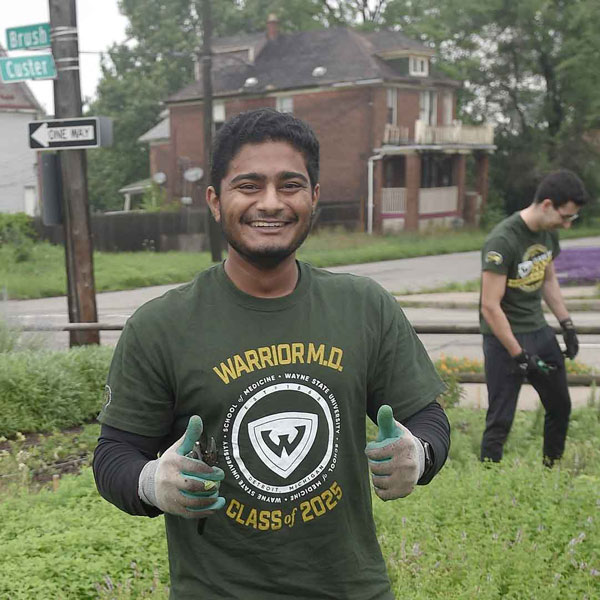 ---
Curriculum
Our Highways to Excellence Curriculum is designed to empower you with the skills and knowledge needed to make a meaningful impact in healthcare. What sets our curriculum apart?
Clinical Immersion: Immerse yourself in a dynamic organ systems-based curriculum that combines classroom learning with hands-on experience in clinical settings. Gain hands-on experience and a comprehensive understanding of medical specialties.

Serving Underserved Communities: Address healthcare disparities through community-centered education. Engage with diverse populations, fostering cultural competence and insights into social determinants of health.

Personalized Pathways: Customize your learning experience with specialized electives, service-learning, community partnerships, and research opportunities.

Fostering Innovation and Leadership: Develop lifelong learning, cultural competence, and leadership skills. Navigate complex healthcare systems and emerge as a confident healthcare leader.
---
Diversity
Our students come from the local community, nearly every state and more than 60 countries, representing a wide array of cultures and backgrounds. This provides a tremendous opportunity to learn and grow while cultivating fresh ideas and new perspectives.
A wide selection of student organizations that encourage collaboration and camaraderie with other students and the community
Be part of the most diverse medical school in Michigan and in the nation, as recognized by U.S. News & World Report
A Wayne State University medical education prepares you to become a leader and global citizen, ready to adapt to change and impact your environment
---
Experience Detroit
Immerse yourself in the vibrant tapestry of Detroit, where Wayne State University proudly stands as a cornerstone of this remarkable city. With its rich history, cultural diversity, and thriving resurgence, Detroit offers an unparalleled backdrop for your educational experience.
Explore over 200 acres of green space and walking paths in the heart of a bustling city
Join students living on campus with direct access to world-class medical centers, museums, cultural institutions, eateries, and sports and entertainment venues
Experience countless business, employment and community engagement opportunities thanks to the university's decades of relationship-building in the urban and metropolitan Detroit areas