Why Wayne State University School of Medicine?
Make the most of your education as you benefit from our longstanding partnerships with nationally renowned medical institutions just around the corner. Walk straight from class into a community outreach program and apply your knowledge working directly with underserved patients. Take a study break with your cohort and experience city life whether that's discovering a newfound appreciation for art at Detroit's many museums and galleries, stocking up on produce and culture at Eastern Market, finding a secret coffee spot, taking a stroll along the Riverwalk or enjoying a night of live music. Immerse yourself in one of the most diverse medical schools in the nation in a city that is truly like no other.
---
Insights
Fully accredited medical degree with 99% first-attempt pass rate on the United States Medical Licensing Examination Step 1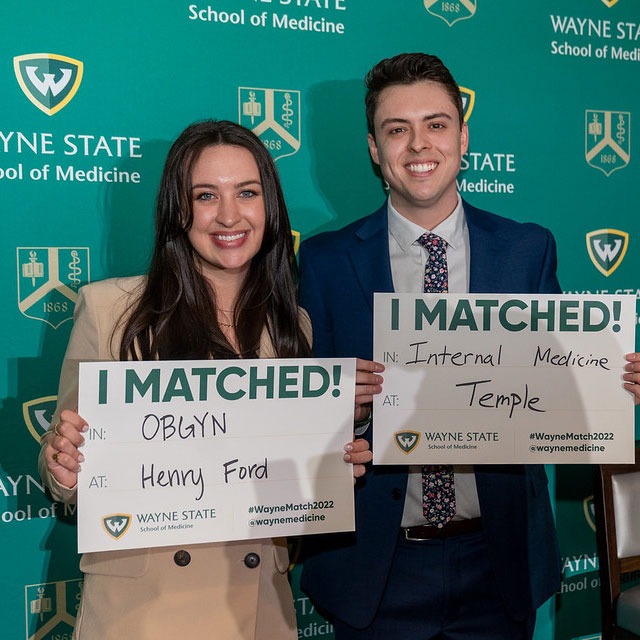 Invaluable exposure to clinical skills that get results with our Total Success Match Rate at 99.1% well above the national average
Volunteers work at more than 35 free clinics throughout the city
---
Community engagement
Take part in community outreach programs that serve vulnerable communities throughout metro Detroit. Our students work with leading clinicians and biomedical scientists who take you out of the classroom right to the communities where your work will make a difference.
Volunteers work at more than 35 free clinics throughout the city
Provide patient care for the homeless
Mentor school children
Participate in renovation and farming efforts in local neighborhoods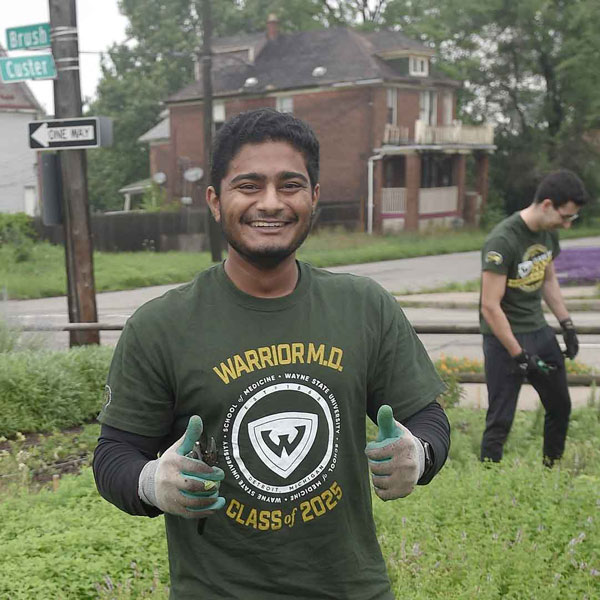 ---
Curriculum
Participate in an organ systems-based curriculum that blends basic sciences and clinical experiences, integrating classroom, self-directed and small-group learning.
Obtain an authentic understanding of health needs and social determinants among various populations including the homeless, incarcerated, veteran, elderly and others
Take advantage of experiential service learning, community engagement and research opportunities via individualized elective tracks and strong academic, health care and community partnerships
Experience a longitudinal focus on professionalism that stresses quality and compassionate care, cultural competency and leadership
Personalized paths to an M.D. with options that speak to your interests, life and career aspirations
---
Diversity
Our students come from the local community, nearly every state and more than 60 countries, representing a wide array of cultures and backgrounds. This provides a tremendous opportunity to learn and grow while cultivating fresh ideas and new perspectives.
A wide selection of student organizations that encourage collaboration and camaraderie with other students and the community
Be part of the most diverse medical school in Michigan and in the nation, as recognized by U.S. News & World Report
A Wayne State University medical education prepares you to become a leader and global citizen, ready to adapt to change and impact your environment
---
Experience Detroit
Wayne State University was founded in 1868 in the heart of Detroit, a city whose history, culture and economic resurgence make it one of the most fascinating places in the world to live, learn, work and play.
Explore over 200 acres of green space and walking paths in the heart of a bustling city
Join students living on campus with direct access to world-class medical centers, museums, cultural institutions, eateries, and sports and entertainment venues
Experience countless business, employment and community engagement opportunities thanks to the university's decades of relationship-building in the urban and metropolitan Detroit areas