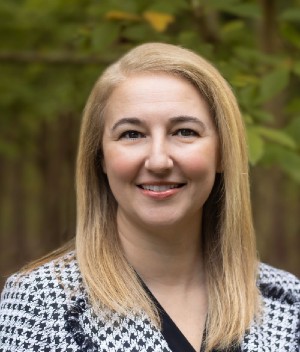 Karen Mourtzikos
Associate Vice President of Wayne State University Health Affairs
Office Address
1249 Scott Hal
540 E. Canfield
Detroit, MI 48201
Assistant
Minkell Jones
Office Phone: 313-577-1335
Fax: 313-577-8777
Biography
Karen Mourtzikos, M.D., is the associate vice president of Wayne State University Health Affairs
Dr. Mourtzikos is specialist in Nuclear Medicine and an associate professor of Radiology.
She received her bachelor's degree cum laude from Union College in Schenectady, N.Y., in 1996 and her medical degree from Albany Medical College in 1999. She completed a Nuclear Medicine residency at the University of Maryland Medical System, where she was chief resident, and then completed a fellowship in Radiology and Radiological Science-Nuclear Medicine at Johns Hopkins University.
She previously served as an assistant professor of Clinical Radiology, vice chair of Faculty and Staffing Administration, and associate director of the Diagnostic Radiology Residency Program at the Stony Brook University Renaissance School of Medicine in New York.
She also served as director of Molecular Imaging for Zwanger-Pesiri Radiology, and as interim section chief of Nuclear Medicine and director of the PET/CT Fellowship at New York University.
Dr. Mourtzikos is board certified by the American Board of Nuclear Medicine and is a member of the American Medical Association and the Society of Nuclear Medicine.