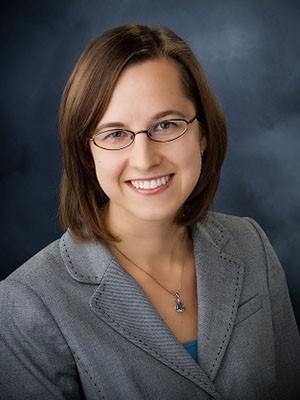 Eva Waineo
Assistant Dean of Student Affairs
Office Address
315 Mazurek Education Commons
Office Phone
313-577-1463
Biography
Assistant Professor of Psychiatry and Behavioral Neurosciences Eva Waineo, M.D., is the assistant dean of Student Affairs for the Wayne State University School of Medicine.
Dr. Waineo graduated from the WSU School of Medicine in 2005, and completed a residency in Psychiatry in 2009 at the WSU/Detroit Medical Center. She joined the faculty in 2009.
She has served as director of Health and Wellness in the Office of Student Affairs, overseeing the health and wellness curriculum, facilitating health and wellness events, and faculty liaison to the Student Health and Wellness Task Force.
From 2014 to 2022, she served as the Psychiatry Clerkship director for third-year medical students. She also co-directed the Human Disease Foundations 3 Course for second-year medical students and taught in the Residency Preparation Rotation course. In addition, she teaches didactics to psychiatry residents and supervises residents on their medical student education residency elective.
In 2021, she received a Difference Maker Award, the Kamran S. Moghissi, M.D. Endowed Faculty Award for Excellence in Basic Science Teaching and the Leonard Tow Humanism in Medicine Faculty Award from the Gold Humanism Honor Society.
Dr. Waineo also won a Faculty Award for Outstanding Faculty-to-Student Mentorship in the Area of Research at the WSU School of Medicine's Medical Education Research and Innovation Conference in 2020 and 2021. She was a faculty inductee into the School of Medicine's Alpha Omega Alpha Honor Society and won the Aesculapian Honor Society's Staff Award, both in 2020. She received the College Teaching Award in 2017, the Faculty of the Year Award for Excellence in Didactic Instruction in 2011, and the Calvin E. Schorer, M.D., and Harry E. August, M.D., Outstanding Graduating Resident Award in 2009.
At the WSU School of Medicine, she is co-chair of the Liaison Committee on Medical Education Medical Student Experience Workgroup, a member of the LCME Medical Education Program/Curriculum, Psychiatry and Neurosciences Interest Group faculty advisor, Medicine in Motion Chapter Student Group faculty advisor, Med2Med faculty advisor, Detroit vs. Addiction Student Organization faculty advisor, a member of the Academic Advising Committee, and a member of the Clerkship Directors Committee and Pre-clerkship Education Committee.
She is a member of the American Psychiatric Association, the Michigan Psychiatric Society and the Association of Directors of Medical Student Education.