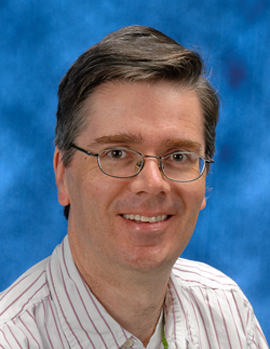 Raymond Mattingly
Office Address
6374 Scott Hall
Assistant
Administrator
Office Phone
313-577-1580 | Fax: 313-577-6739
Biography
Raymond Mattingly, Ph.D., is the chair of the Wayne State University School of Medicine's Department of Pharmacology.
Dr. Mattingly replaces Bonnie Sloane, Ph.D., who has chaired the department since 1995. Dr. Sloane has retired from her position as chair, but will continue to conduct research as a faculty member.
Dr. Mattingly received his bachelor's degree with honors in 1987 and his master's degree in 1991 from the University of Cambridge, England. In 1993 he received his doctoral degree from the University of Virginia. After joining the WSU School of Medicine faculty in 1998 as an assistant professor of Pharmacology, he progressed to associate professor in 2003 and professor with tenure in 2012. He received a secondary appointment as professor of Oncology in 2015.
He is the course director for Medical Pharmacology and Therapeutics and deputy director of the School of Medicine's Cancer Biology Graduate Program, which is funded by a T32 training grant from the National Cancer Institute. His enthusiasm for and devotion to teaching was recently recognized by the American Society for Pharmacology and Experimental Therapeutics when he was inducted into that organization's Academy of Pharmacology Educators. A winner of four WSU College Teaching Awards, he is a longtime member of the Initiative for Minority Student Development, mentoring three students in the program in the last 10 years. He has directly mentored more than 40 high school, undergraduate and graduate students, including seven for dissertation research, and five postdoctoral trainees.
He also has served as a research member and co-leader of the Program in Molecular Biology and Genetics of the Barbara Ann Karmanos Cancer Institute; a full member and associate leader of the Cell Signaling and Function Research Core, Environmental Health Sciences Center for Molecular and Cellular Toxicology with Human Applications; faculty member of the Graduate Program in Molecular and Cellular Toxicology; and graduate officer for the Department of Pharmacology.
His honors include National Research Service Awards from the National Cancer Institute (1994 to 1997), Faculty Development Awards from the Pharmaceutical Research and Manufacturers of America Foundation (2000 to 2002), the School of Medicine's Faculty Research Excellence Award (2002), being named a Scholar of the Ralph Wilson Medical Research Foundation (2004 to 2006) and chartered membership of the Tumor Cell Biology study section for the National Institutes of Health (2007 to 2011).
Dr. Mattingly's research focus is on the physiological roles and pharmacological significance of small GTPases of the Ras superfamily, in particular, targeting disorders where the Ras pathway is activated without direct oncogenic mutation of the Ras protein itself. While such activating changes in Ras are the most common oncogenic mutations in human cancer, the majority of cancers and many other hyperproliferative disorders have increased Ras signal transduction that is driven through other mechanisms. In recent years, that research has concentrated in the areas of Type 1 Neurofibromatosis and breast cancer.