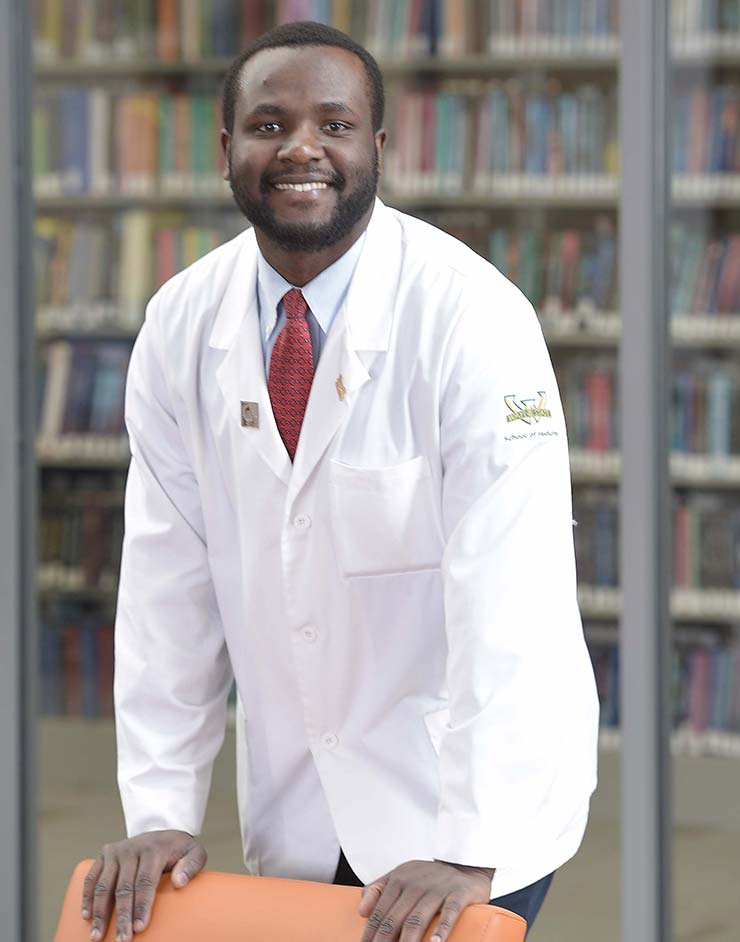 Kwame Wiafe
"I want a university that reflects today's America."
What made Kwame Wiafe leave California to study in the middle of a Michigan winter? The opportunity to serve a diverse, thriving community. He found that at the Wayne State University School of Medicine.
Seeking an experience that allowed him to interact with patients and be part of a community, Wiafe came to Midtown and quickly became involved with Wayne State's Community Homeless Interprofessional Program (CHIP), a student-run clinic that offers care to Detroit's homeless population. As the clinic's med school coordinator, Wiafe works closely with patients to take histories, refer them to physicians, and even provide gloves and hats in the winter.
"We are sometimes the first point of health care intervention for our patients. We like to see ourselves as bridging the gap between the population and the hospitals," he said. "It's gratifying knowing we made a difference in the lives of people with limited access to health care."
While Wiafe is getting firsthand exposure to providing medical care, he said CHIP's interdisciplinary focus has been the biggest benefit to his future career, as working with students from the School of Social Work and Eugene Applebaum College of Pharmacy and Health Sciences have revealed the nuances and complexities patients often face.
"A doctor can address medical needs, but there are things we can't do. Social Work, Pharmacy and the others help us understand our patients better," he said. "It gives us an opportunity to complement each other and provide more holistic care to our patients."
It was that collaborative, hands-on nature that attracted Wiafe to Wayne State and why he recommends students consider an education at the School of Medicine. In addition to the campus diversity, he said the vast opportunities to serve the community provide training that will be vital to helping them serve patients following graduation.
"I take pride in knowing that Wayne state is actively engaged in providing a training ground for future physicians," he said.